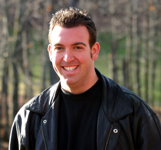 Todd Brockdorf
Todd Brockdorf is not an astronaut, a professional athlete, or a reality TV star (yet). The only Wheaties box he'll ever be on is the one where he glued his own picture! He is simply a better-than-average guy who discovered how to excel beyond the ordinary and find what moves him in life. He's a regular guy who wanted more than a regular life – and learned how to break out.
Todd grew up in a "traditional" household where he was expected to go to school, get good grades, and go on to college. He followed orders, graduated at the top of his class and attended the University of Michigan along with 20,000 other people. Put simply, he was a "good kid," but painfully average.
While in college, Todd wanted desperately to break out of his painfully average life. He made a conscious decision to immerse himself in the college experience. He wanted to experience everything, learn everything and participate in everything. His experience changed his view of the world – and his place in it.
He did 92.3% of his learning outside of the classroom. He was selected as the Sports Editor of the yearbook before he even stepped on campus as a freshman. He also participated in an undergraduate research program. As a sophomore, Todd served as the club president of an international community service organization. He later joined a public speaking group.
But it's not about the positions, the programs, or the parties. It was committing himself to the college experience that helped him find his "thing."
He now travels to campuses to encourage others not to squander the opportunity, not to waste the time, but to recognize the lifelong gift that is before them.
Todd Brockdorf is not "Superhuman." He is just a better-than-average guy trying to be a "Super Human." His audiences are inspired to do the same.
View Todd in action.